Deep Elm Records will be releasing a Double Vinyl LP set of cinematic post-rock powerhouse LIGHTS & MOTION's critically-acclaimed debut Reanimation in connection with Foreign Sounds, a South Carolina-based record label run by musicians who embrace all elements of the independent DIY mindset while not subscribing to a singular sound. Currently in production in the Czech Republic, this hand-numbered, double-gatefold, limited edition pressing of what PopMatters called "the greatest debut album in post-rock history" and will be limited to 500 copies on black vinyl. A soon-to-be collector's item, a reservation is strongly encouraged as we expect this limited pressing to sell out very quickly. For reservation information, go to foreignsounds.com/lightsandmotion. Foreign Sounds anticipates shipping orders in late August.

• Double Vinyl LP Set, Limited Edition Pressing of 500
• 13 Uncut Original Recordings on Premium 150 Gram Vinyl
• Double Gatefold (2 Sleeve) Full-Color Jacket with Liners
• Hand-Numbered, Black Vinyl with Full-Color Disc Labels
• Manufactured in the Czech Republic by Pirates Press
• Total Running Time: 67 minutes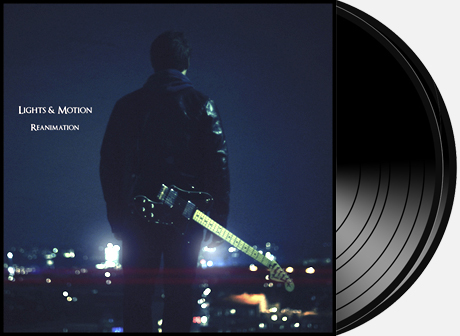 One word: Epic. That's the most succinct way to describe the stunning instrumental debut by LIGHTS & MOTION. The band's braintrust, 24 year old self-taught multi-instrumentalist, songwriter, producer, engineer, mixer and all around musical savant Christoffer Franzen, created and composed every song in real-time during late night insomnia sessions through pure accident, improvisation and inspiration. And the result? More than you could have ever hoped for. Reanimation is pure, sweeping, musically-animated emotion: modern yet classic, bold yet restrained, grandiose yet humble, storming yet tranquil, swerving yet linear...and you are completely surrounded in the sincerity, the ecstasy, the illumination of it all. Every song is deeply intimate yet so massively majestic, culminating in a timeless album that is seemingly created from the same stuff dreams are made of. Reanimation is sure to be acknowledged as one of the best and most important post-rock albums ever made. "If this was the last album we ever released on Deep Elm, I would consider our 18 year mission an overwhelming success" says label founder John Szuch.

"There are two factors by which the genre of post-rock should be judged by - a litmus test, if you will. One, does it challenge and/or dispel the false notion that at the center of rock music presides a frontman and 'proper' song structure? Two, and perhaps most important, does it take listeners out of themselves and into ethereal, ambient and otherworldly realms of which anything and everything is possible when guitars and percussion collide? If this is to be true, then Reanimation, the debut LP from Sweden's 24-year-old multi-instrumentalist, Christoffer Franzen (aka Lights & Motion), is a near-perfect post-rock album. Bound the single thread that is Franzen's solitary performances - improvised, layered and manipulated - is a 67-minute epic that ebbs and flows through sweeping reverb, lush textures of orchestrated strings and sonically crushing melodies. Of the post-rock groups recognized by the majority of mainstream indie rock listeners, Lights & Motion most closely resembles Explosions in the Sky in the band's habitual use of rock's standard guitar, bass and drums. And while Reanimation is chock-full of the non-traditional percussion often found in the genre, it's Franzen's use of this trinity in creating such majestic and euphoric movements that will astound most. No bones about it, Reanimation is quite possibly the greatest debut album in post-rock history..." - PopMatters
Now with nearly 200 releases in its discography, fiercely independent Deep Elm Records continues to build a better label - one that operates for glory, not gold. We see our label being about people coming together, meeting, singing and sharing that experience with each other...those are the times that we remember forever. It's about the power of music and the bands that create it. Founded on respect for music and the creative process, a goal of discovering new artists and undying integrity in everything we do, Deep Elm strives to further its reputation as one of the world's most reliable sources of quality independent recordings. A small but dedicated team provide all label services on an in-house basis including worldwide promotion, marketing, licensing, publicity, design, internet-related operations and our hi-res digital download store (deepelmdigital.com).

Deep Elm is responsible for seminal releases by The Appleseed Cast, Carly Comando, Moving Mountains, Latterman, Benton Falls, 500 Miles To Memphis, Nada Surf and most recently Lights & Motion, Accents, Athletics, Dorena, Moonlit Sailor, Our Lost Infantry, Last Lungs, Les Sages, This Drama, The Lions Rampant and many more. Deep Elm is also known for its 12 volume exclusive series "The Emo Diaries" featuring Jimmy Eat World and 150 other bands.


Deep Elm is recognized as one of the industry's premiere indie music licensing companies and has provided pre-cleared, cutting edge music to tastemakers worldwide from our catalog of 2,000+ original songs and instrumentals. Our music has appeared in feature films, indie films, movies trailers, TV commercials, TV shows, movie soundtracks, video games, trade shows and online promotional campaigns for clients including Google, The Oscars, Apple Computers, Red Bull, Monster Energy, Microsoft, Four Seasons Hotels, Billabong, Chevrolet, Cartier, The NFL, Nissan, Microsoft, Shimano, Philips 66, Vodafone, Kenneth Cole, Rip Curl, NBC, Channel 4 UK, AMC's Mad Men, MTV, HBO, Vans, Sony Pictures, Mastercraft, Fox, Fuel TV, CBS, The CW, Planet Eclipse and more.

In 2013, Deep Elm celebrates its 18 year anniversary as an independently owned and operated record label. Deep Elm is part of a threatened breed of "true independents" that exist for the love of music. Most so-called "indie labels" are, in fact, funded and distributed by major record labels and their affiliates. Not Deep Elm. On a completely self-sufficient basis and without outside support, Deep Elm competes in an industry dominated by corporate giants. We are proud to be 100% Independent. We put out the records that move us and support the bands we love. We survive on word of mouth. So if you are a fan, spread the word. And we'll make sure these bands will continue to be there when you need them. We're not just making music, we're making history...

Indie 'Til Death...And We Mean It.